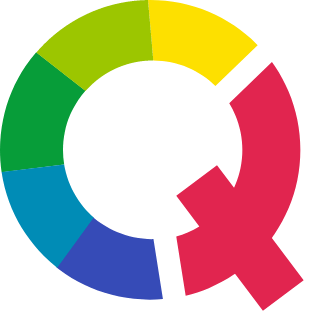 ColordesQ - A Digital Color Management Solution
Color Management, Quality Control, and Validation
Problems with color management in your textile products cost you time and money between multiple approval cycles and human errors. Traditional color management methods fail to address issues like color metamerism (two colors that match under one light source but not under a different light source) as well, which is where ColordesQ's digital color management platform comes in.

With ColordesQ's help, users will be able to save time, money, and valuable company resources typically spent on the color management process. Its advanced capabilities will enable you to move all of your color management and quality control operations online, enable faster communication with apparel and non-apparel manufacturers, increase efficiency, and remove human errors from the color management process.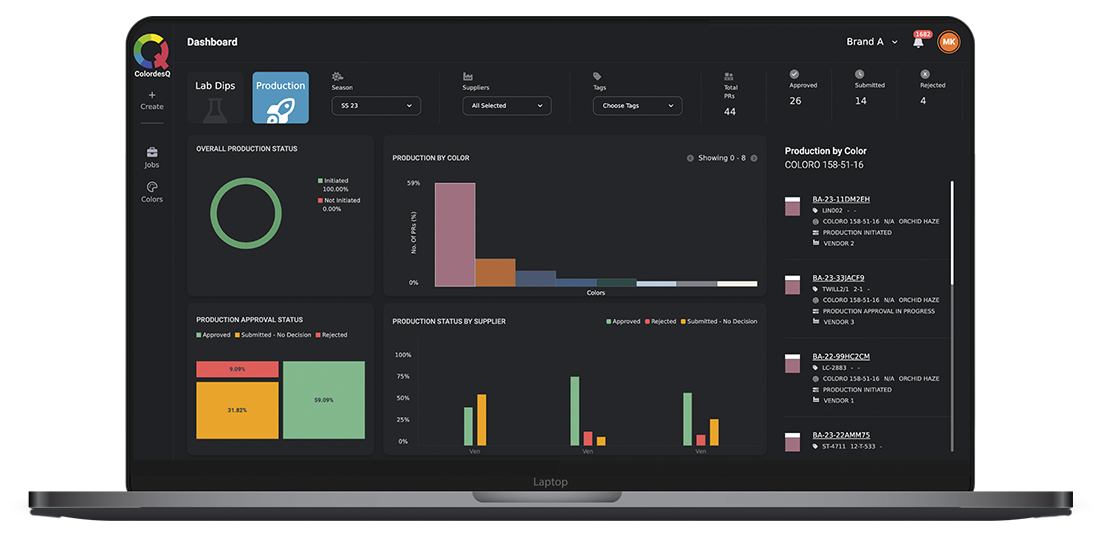 Define Color Objectively Through Triple Tree's Digital Color Management Solution
The color comparison process can be time consuming and lacks transparency when you depend solely on the human eye. The process leads to color metamerism issues and inaccuracies in the production process.

Our digital color management solution digitizes the color management process using spectral data. It limits any chances of error in the process and improves decision making by facilitating communication between manufacturers and retailers.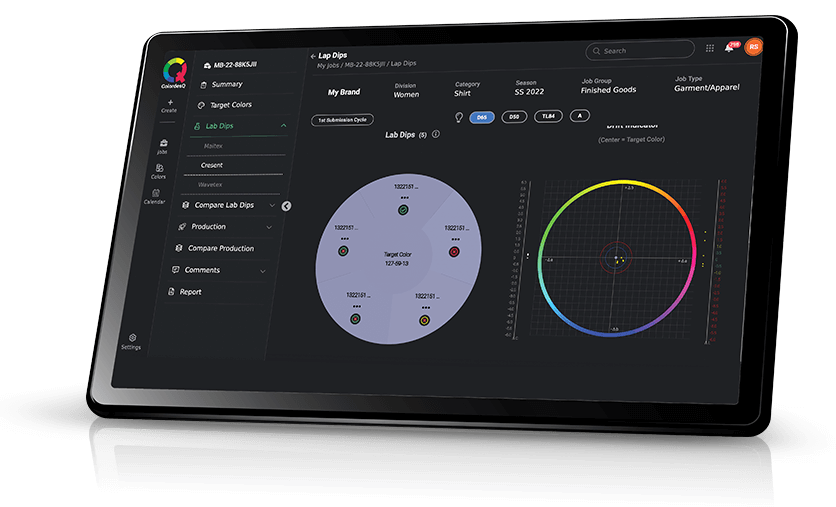 Textiles, Apparel, Home Textiles, Footwear, Accessories, and More
Compare Target Colors
with Color Developments
Objective Color Evaluation
Based on Spectral Data
Showing Color Deviation
Under Multiple Light Sources
Address Color Metamerism in Lab Dip Approvals
Metamerism in textiles is when a color dip can seem like an exact match to your target color under specific lighting but not under a different light source. With ColordesQ - our digital color management solution - your organization will be able to color submissions under different light sources and analyze if the color can be reproduced on different mediums, all without having to leave your desk.
Leverage Spectral Data and Supplier Insights
Enable your organization to compare, display, analyze spectral data, and generate supplier/vendor insights. With ColordesQ, you can analyze data in both visual and numerical forms. Once you input your submissions digitally, you can instantly analyze spectral data based on your target colors and the color dips provided on an easy-to-understand, user-friendly platform.

This enables increased color conformity and accurate color comparison in apparel and non-apparel products.
Accurate and Remote Color Comparison
With ColordesQ, you will be able to make informed color management decisions across multiple materials and on products involving various colors. Our digital color management solution ensures uniformity across all your de.signs and products across the globe.

ColordesQ will help you make well-informed, science-backed decisions about color management, product design, and vendor selection
ColordesQ User Interface
Dashboard

Target Colors from Spectral Library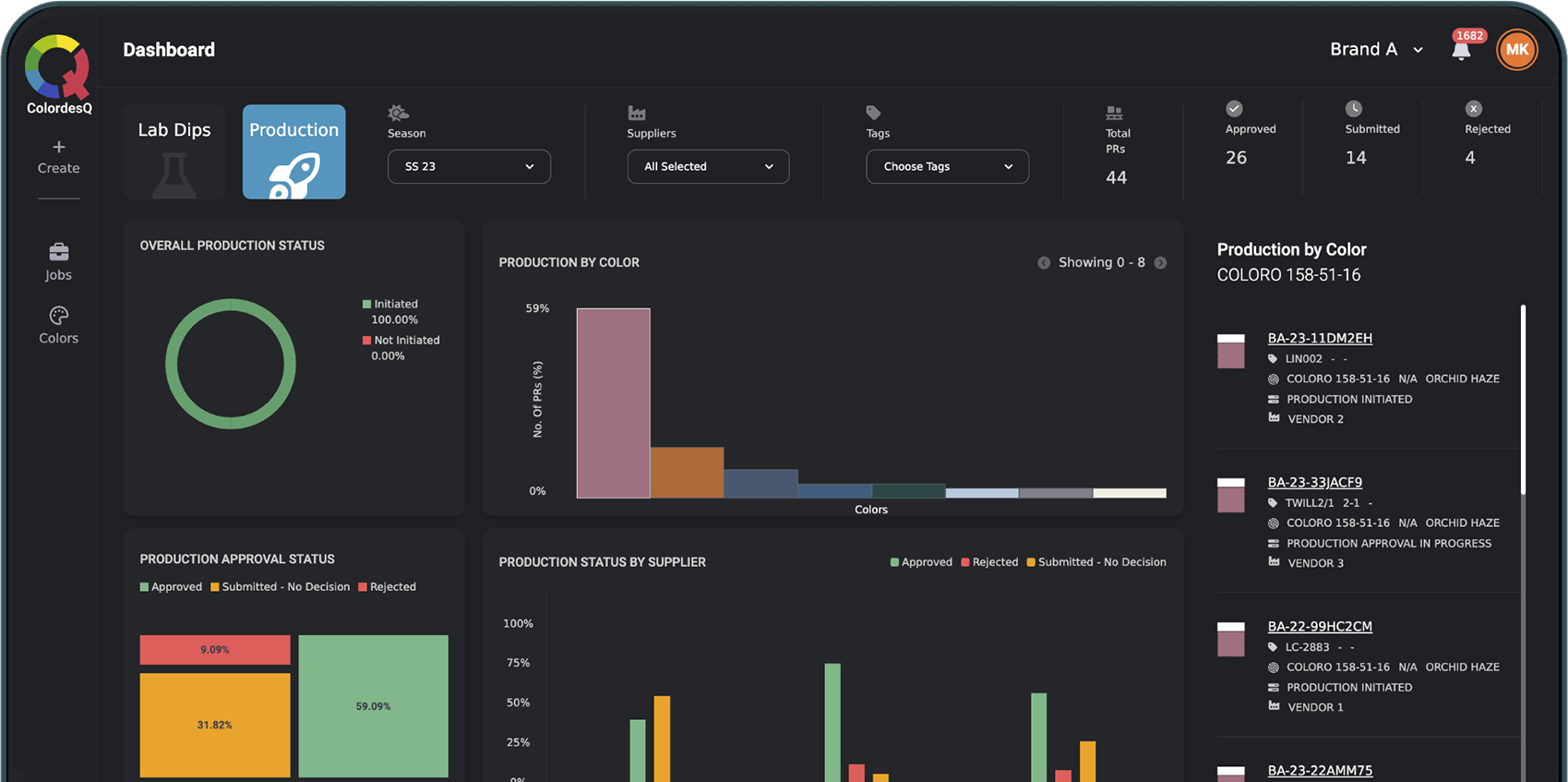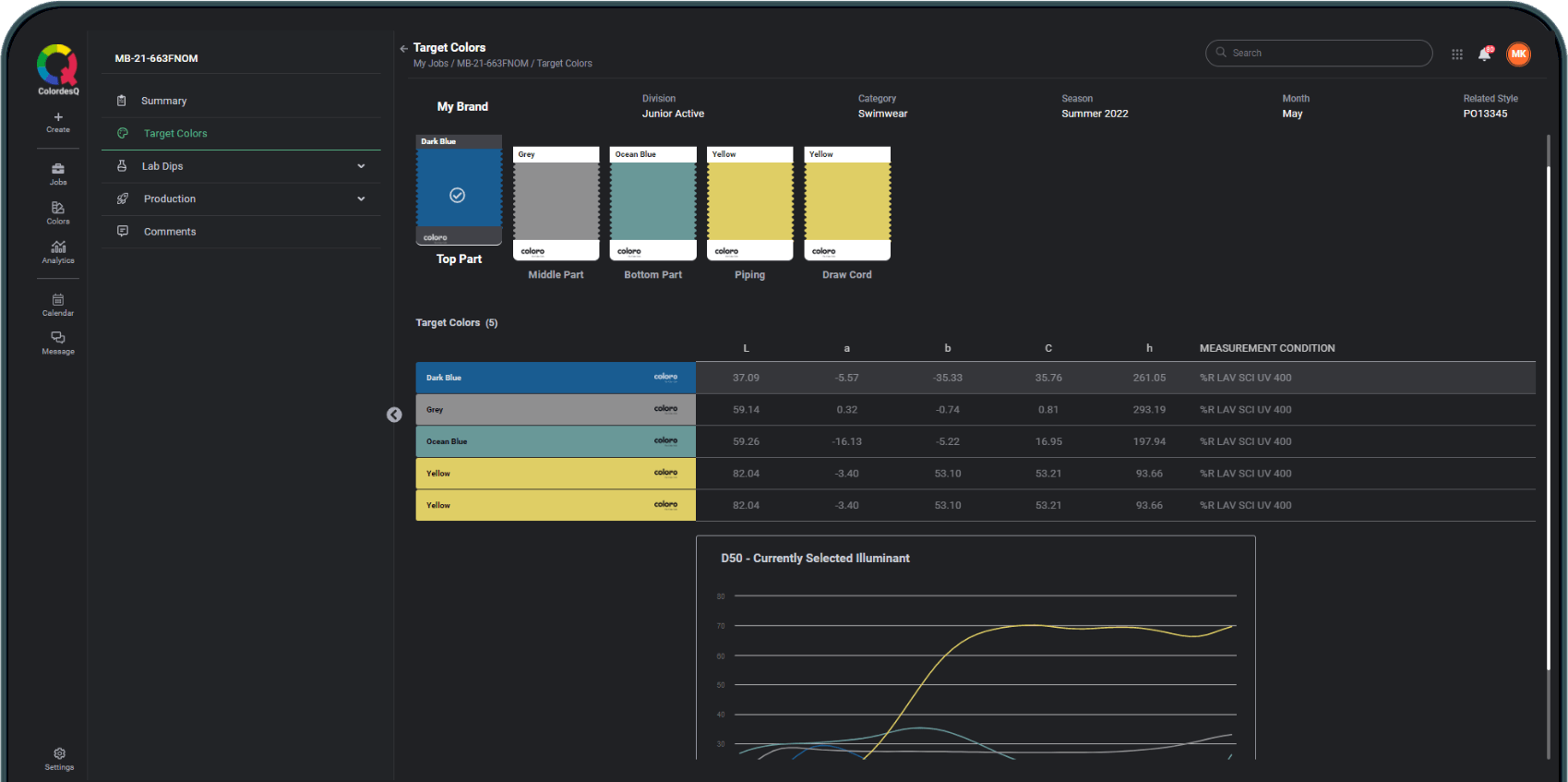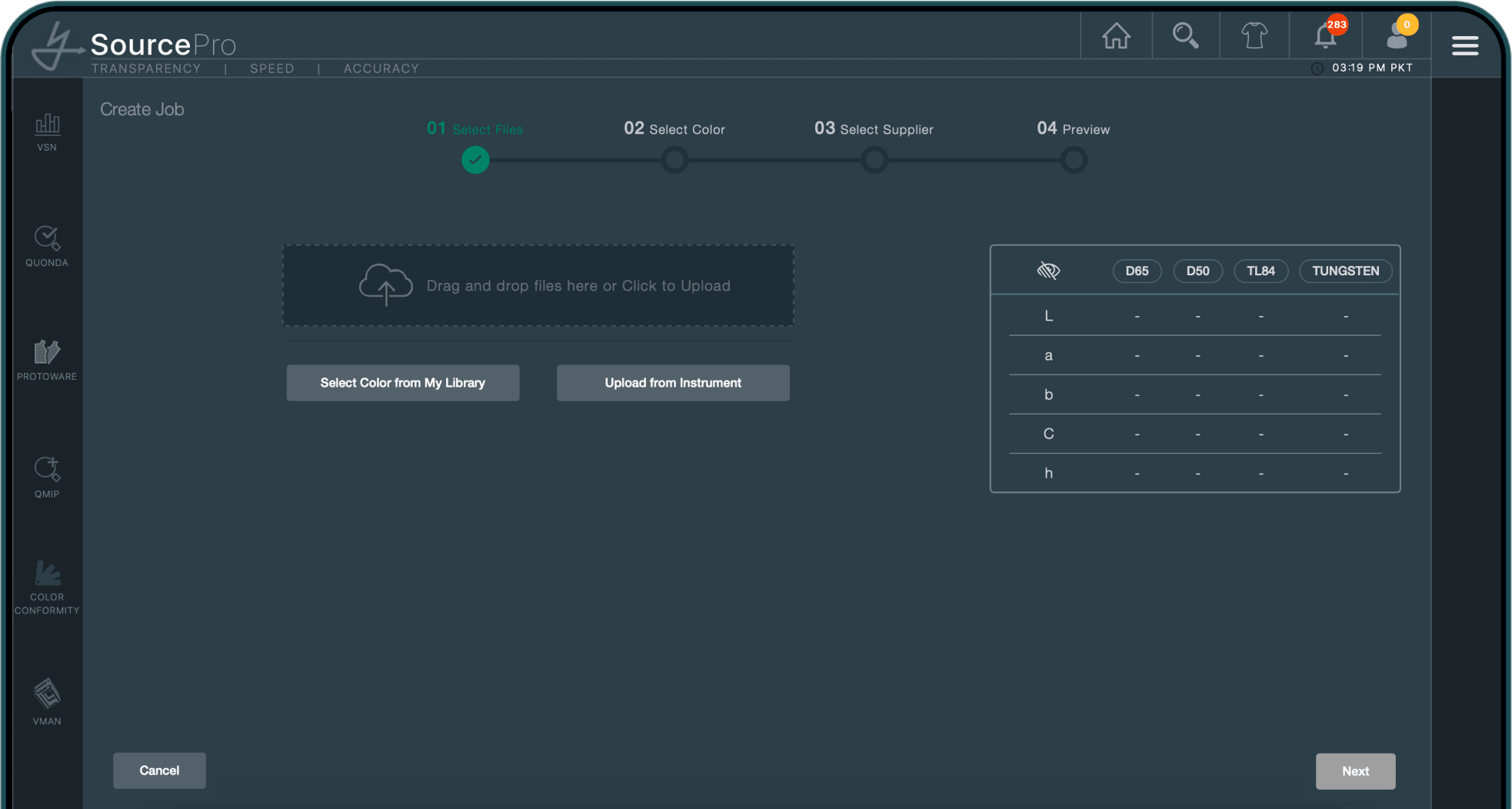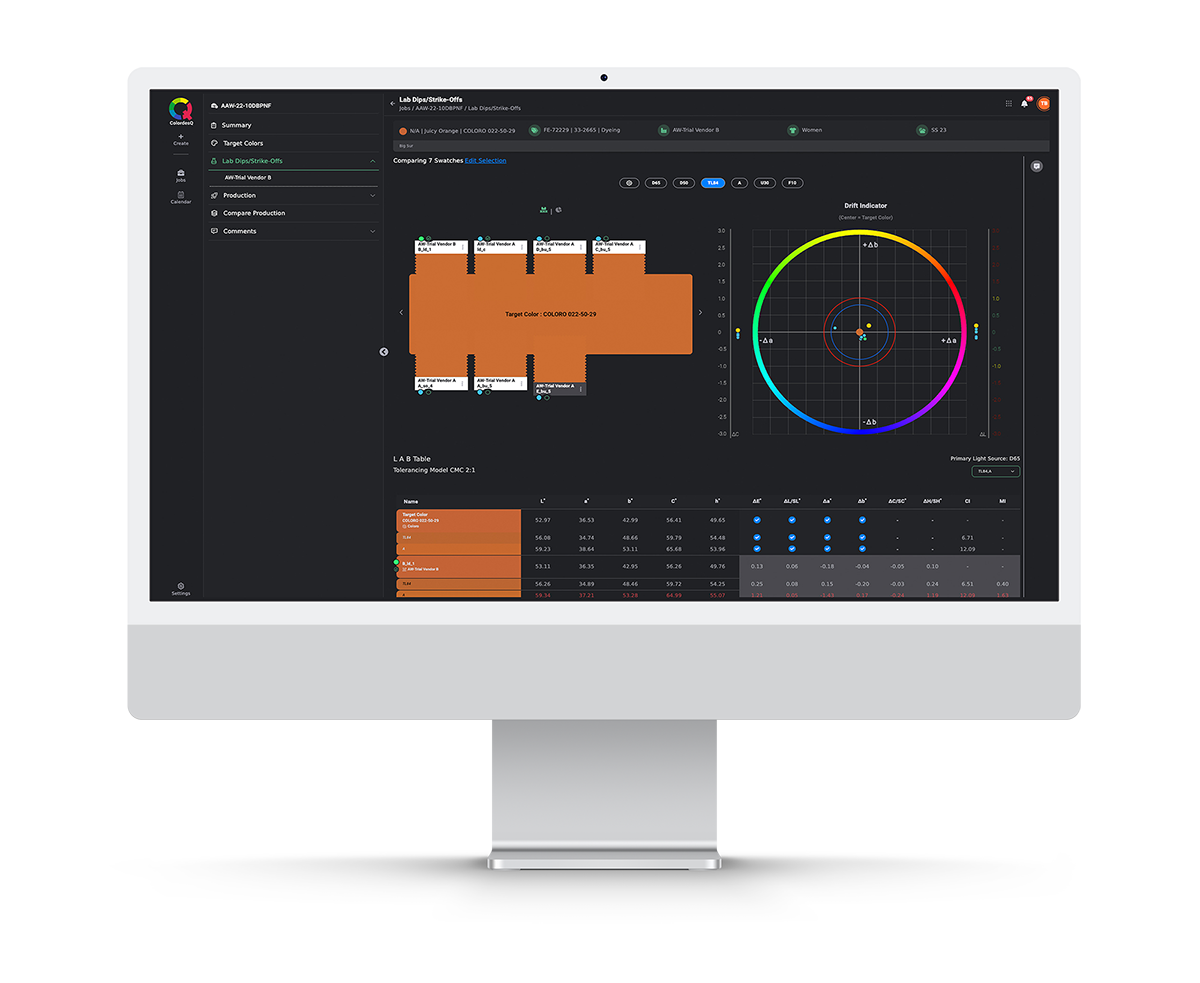 Complicated Color Comparison Made Simple
Color management involves complicated calculations and an understanding of color management itself. ColordesQ simplifies this process through spectral data charts, detailed numerical data and insights, and its ability to detect the slightest color deviations in textile samples better than the naked eye.

The data is simple and easy to understand without compromising on the results and ensuring minimal errors in the digital color management process.
Avoid Multiple Approval Cycles
When color needs to be just right, there can be extensive back and forth between the manufacturers and clients. Not only does it take weeks, but it also costs organizations money and time.

Triple Tree's advanced digital color management solution makes it simple for all users to collaborate, compare colors, and review and address metamerism-related color issues remotely
Streamline the Color Management Process
Collaborations between manufacturers and clients often involve multiple platforms, lost data, and confusion. ColordesQ eliminates this problem with updates and insights delivered in real time on a completely digital and highly efficient quality control solution.

In a highly competitive industry where efficiency is everything, save time and money with the help of a digital color management solution designed for you.
Save Time and Money
ColordesQ enables users to shorten the color management process by weeks, which enables retailers to invest more time in design and product quality control.

Through digitizing the color management process, ColordesQ can help users collaborate with manufacturers all over the world.
Frequently Asked Questions
Basics:
How does ColordesQ help evaluate colors?
ColordesQ utilizes a Color Engine built exclusively for the product.

Our Color Engine uses spectral data to digitize and compare colors objectively.

Our workflows and interfaces allow you to compare color for your lab dip and production lots with your color standards.
What is spectral data and how is it obtained?
Spectral data is obtained when a fabric or material is measured using a spectrophotometer - a device that can measure the intensity of reflected light at all visible wavelengths.

These measurements are captured in .qtx files – an industry-standard file format containing the reflectance measurements for a color.

Spectrophotometers are commonly available with major apparel manufacturers, fabric mills and dye houses. Some prominent spectrophotometer manufacturers are Datacolor, X-Rite, Konica Minolta and CADDON.
How are color standards or target colors defined digitally in ColordesQ?
The platform accepts digital measurements for any mainstream color library (i.e. color systems such as Coloro, Pantone etc.) while allowing brands to create and upload their own custom library, if needed.
How do I get color data for my lap dips and production lots into ColordesQ?
ColordesQ accepts color data via upload of .qtx files.
Is it possible to make color decisions on the basis of spectral data alone?
Yes. Spectral measurements are an objective, scientific measure of color attributes/characteristics.

As a precondition, both the measuring equipment and the performance of the measurements must comply with the required specifications.
Is the digital evaluation of color as reliable as comparing physical samples using the human eye?
An assessment made digitally using spectral data is accurate, precise and consistent - provided that the measurement process is carried out properly.

A digital evaluation is objective and based in hard data, as opposed to subjective opinions formed using the human eye.
What are the biggest benefits generated by ColordesQ?
With ColordesQ, brands and retailers can hope to experience

A 90% First-Hit-Rate
More than 70% Time Saving in the Lab Dip Process
80% Cost Savings on Courier Shipments for Colors
Source: Company internal workings. Benefits experienced may vary based on materials used, dyeing practices etc.
Workflow:
What are the main milestones of a color process handled in ColordesQ?
ColordesQ's basic workflow streamlines the color approval process through the following stages:


Color Job Creation & Assignment
Lab-Dip Submission, Evaluation & Approval
Bulk Lot Submission, Evaluation & Approval
Which roles in my organization would typically benefit from ColordesQ?
ColordesQ caters to the color approval workflow for all primary stakeholders involved in the color submission, evaluation and approval process.

At Brands and Retailers - Designers, Colorists, Product Managers and Quality Managers

At Suppliers - Color Lab, Merchandiser
How is the communication between stakeholders handled in ColordesQ?
Users interact via a comment function in ColordesQ.
Notifications are automatically sent for specific actions, such as the completion of a task or a person being tagged.

The entire history of a color job – measurement data, job decisions & comments from lab dip submission through production lots - can be viewed at any time.
Implementation:
What are the bare minimum requirements to work with ColordesQ?
The willingness to digitize the color management and evaluation process – and an internet connection.

ColordesQ's core functionalities are accessible via web-browser.
Can ColordesQ integrate with my existing PLM and IT infrastructure?
Yes – our flexible API's facilitate cross-platform integration. Data exchange is also possible via Secure File Transfer Protocol (SFTP).
Does ColordesQ offer a trial phase?
Yes, we offer a 6-week trial period free of charge.
Please get in touch via a
contact form
Does ColordesQ come with training and support for users?
Our product and onboarding teams assist the entire process.

During trial and go-live, users will be supported by:

Online Training Session(s)
On-demand sessions with our Product Managers
A digital training library containing
Product Manuals
Video tutorials
Any other questions? Please get in touch!